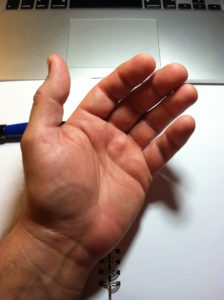 I feel I need to come clean about something. Some of my friends already know about this. My family has known this about me even before I did. I was born different from my siblings and my parents, as well as my cousins and grandparents on both sides of my family.
I am left-handed.
I don't remember a time when I was not left-handed. I never chose to be left-handed. I was born this way. Science has proved it's in my DNA.
I can't say I would go out of my way to choose being among the ten percent of the world population who writes, throws, and does many tasks with their "wrong" hand. Life is easier if you use the "right" hand. I must say, however, that I am proud of my particular difference, and I wouldn't want to change. I have embraced my peculiar characteristic as being part of who I am.
For many centuries people demonized, ostracized, and tried to "convert" left-handers. In Latin, sinistrum, originally meant "left" or "on the left side," before eventually being equated with evil. Under the influence of the Catholic Church, left-handers were routinely accused of consorting with the devil, and being left-handed was enough to identify a woman as a witch and contribute to her condemnation and execution. Even during the Age of Reason and the Age of Enlightenment, in Western Europe and North America, tying a child's left hand behind his or her chair, and other forms of corporal punishment were used on anyone caught writing with his or her left hand.
http://www.rightleftrightwrong.com/history_recent.html
Even today, bad dancers are referred to as having "two left feet." An insult wrapped in a pleasantry is called a "left-handed" compliment. And someone not quite in touch with reality is said to be "out in left field." Stuttering, stammering, and other emotional problems have, at least anecdotally, been associated with forcing a child to change his or her dominant hand. At the very least, the methods themselves are hurtful to a child's body and self-esteem. Even as an adult, when I try to write with my "wrong" hand I experience frustration, anxiety, and physical discomfort.
I don't ever attempt to offend anyone else by my particular difference, yet people still make comments, jokes, or feel obligated for some reason to point it out. (When I was a younger man, some overly generous soul informed me that in certain cultures, the left hand is used for the purpose of wiping oneself after defecating, whereas the right hand is used for eating – so the left hand is deemed unclean, dirty.) I just try to be a good person, and live my life in peace the best way I know how.
Thankfully, for the most part, the world does not demonize "lefties" anymore. Intelligent, educated, enlightened people know it is the way God made us, that we must not be forced to change, and that we are as good, valuable, and worthy as the rest of the population. Some people, like my parents, have even helped us feel special.
Everything mentioned above about left-handed people or "lefties" is also true of homosexual or "gay" people (please re-read to refresh your memory, if necessary), but when it comes to the treatment of this group of people, our thoughts and actions are centuries behind! We are still living in the "Gay Dark Ages."
I place my left hand over my heart in solidarity with all my gay relatives, friends, colleagues, acquaintances, and fellow human beings, and pray that one-day, those cursed with very small minds and hearts will evolve into intelligent life here on earth.
By Keith Douglas Kramer
Photo by Keith Douglas Kramer